Director's Message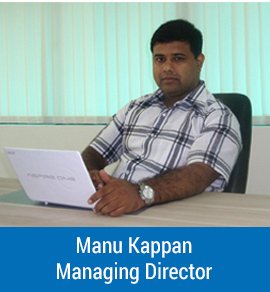 Kappans School of Accountancy and Management strive to provide world class training for Accountancy and Management and mould the professionals of tomorrow.
Our flagship courses are ACCA & ACCA+B.com. We believe that three things contribute to the success in any professional exam - knowledge, effort and exam technique. While subject knowledge can be provided by anyone who knows the subject and the effort has to be come from the student's part, the exam technique can be taught only by people who have successfully undergone the same exams. At our institution we pride in having the best faculty and staff who will guide students through all facets of the qualifications to which we cater.
We also have decent enough infrastructure to provide the classes. Our campus is centrally located close to public transport. We have a wifi enabled campus with air conditioned digital class rooms.
Above all, although we are running a business, the management believes that ethics and values should be the core to any educational institution and want to make a profit by providing the best service. We have priced our courses at an affordable level in a very transparent way. Our fee is inclusive of all the material, and we have no application fee, admission fee, registration fee, caution deposit or any other surcharge. We only have a paper based fee and that's the end of it. The only additional fees the students have to pay are the fees due to their professional bodies which the students can remit directly.
So we have the best faculty and a good enough campus and we intend to serve the students in the best way we can and have put our course fees at affordable levels for students. This means that we have to cut costs elsewhere and the area where we are not spending is marketing and advertising. You won't find us in TV, news paper or bill boards. Our advertisement is the word of mouth publicity provided by the happy and successful students and that is what we expect to propel our growth.